Event Description
Wau – an intricately-designed Malaysian moon-kite, also widely known as one of Malaysia's national symbols. Get hands-on experience at this year's In-between Arts Festival and lean how to make a Wau of your own for only RM20!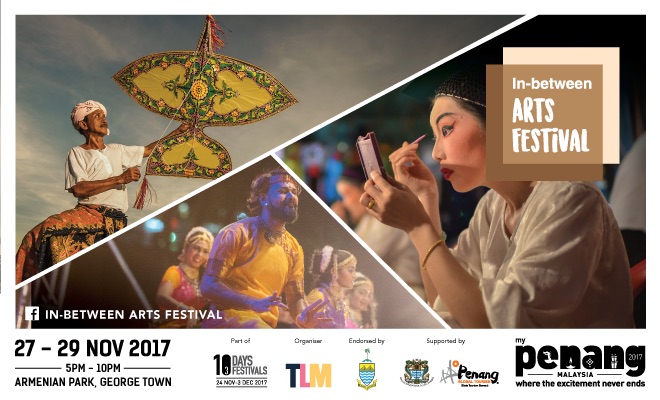 Wedged between the George Town Literary Festival and the Penang Island Jazz Festival, the In-between Arts Festival (IbAF) aims to showcase words, food, music and everything in between. IbAF aims to connect people from around the region to experience, explore and collaborate in Penang. It's truly a festival for Penangites, as much as it is for visitors from near and far.
The In-Between Arts Festival 2017 will be a showcase that unfolds the diversity of culture and religious celebrations in Penang. A creative collision of art and culture presentation that includes performances, traditional trades, traditional games, local food & beverages as well as a pop-up market where bits from each of the activities will reflect genuine culture of the city. The festival will take visitors in exploring the spellbinding beauty of Armenian Park, the cultural anchor that best expresses the atmosphere. For three days, visitors can learn offerings of the most authentic cultural elements and community events at one place. Get "culture-overloaded" at IbAF2017 where you'll see, learn and be hands-on with some of Penang's most precious culture and traditional practices.
Batik Painting Workshop @ RM10
28Nov 6:00pm
Wayang Kulit Making Workshop @ RM30
28Nov 7:00pm
Kolam Making Workshop @ RM20
29Nov 5:00pm
We are also collaborating Uber as part of the 10 Days 3 Festivals in Penang. So if you are worried about parking or getting around George Town during GTLF, be sure to use the UBER10D3F promo code  and get up to 10 FREE rides worth RM5 each.
---
An annual affair! November and December see Penang wrapped up with 10 days of jam-packed events , consisting of the George Town Literary Festival, an In-between Arts Festival and the Penang Island Jazz Festival.
George Town Literary Festival: 24 – 26 Nov 2017
In-between Arts Festival: 27 – 29 Nov 2017
Penang Island Jazz Festival: 30 Nov – 3 Dec 2017
Additional Information or Registration Details
Date: 27 Nov 2017 (Monday)
Time: 5.30pm-7.30pm | 8pm-10pm
Venue: Armenian Park, George Town
Limited to 15 pax per session, PM us to book your place.
Visited 72 times, 1 Visit today