Event Description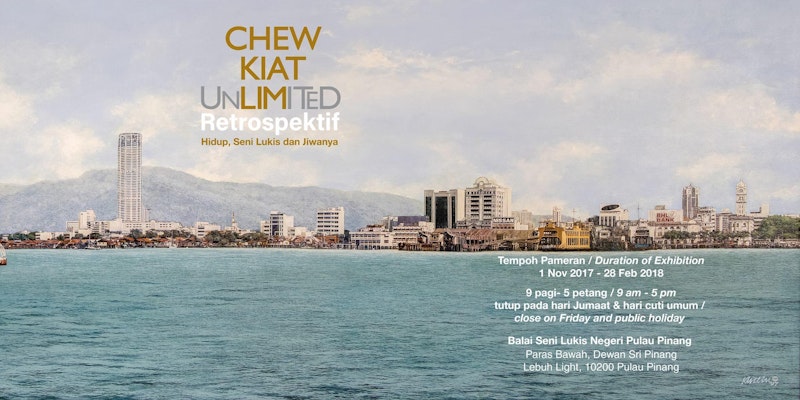 Since 2007, the Penang State Art Gallery has honoured a deserving artist every year with a Retrospective exhibition and publication. The honoured artists were Khoo Sui Hoe (2007), Lee Joo For (2008), Dato' Tay Mo Leong (2009), Ismail Hashim (2010), Eric Quah (2011), Dato' Chong Hon Fatt (2012), Dato' Tan Chiang Kiong (2013), Cheung Poi Yip (2014), Syed Thajudeen (2015) and James Sum (2016). This year we are pleased to honour Chew Kiat Lim.
Although Kiat Lim had a stint at the renowned LÉcole Nationale Superieur des Beaux-Arts in Paris in 1972, he sees his father as his mentor. From an early age, Kiat Lim and his brothers served as apprentices to their father in his commercial art business. Their father trained them thoroughly in the skills of his trade, hand-lettering, portraiture, composition, colour mixing, shadowing or chiaroscuro, marbling, foreshortening, etc.
Even after more than half a century doing what he likes best, he is as passionate as ever about his art. Kiat Lim says that his work now focuses on the pressing social and environmental issues that inform contemporary life. That is the spirit which many young artists should emulate. Nonetheless, art was everyday vernacular and practice for the entire Chew clan. (Chew Teng Beng, Chew Kiat Seng, Chew Kiat Lim).
Exhibition will be ongoing until 28th February 2018 at Dewan Sri Pinang, Ground Floor from 9am until 5pm. (Closed on Fridays and Public holidays).
Visited 78 times, 1 Visit today